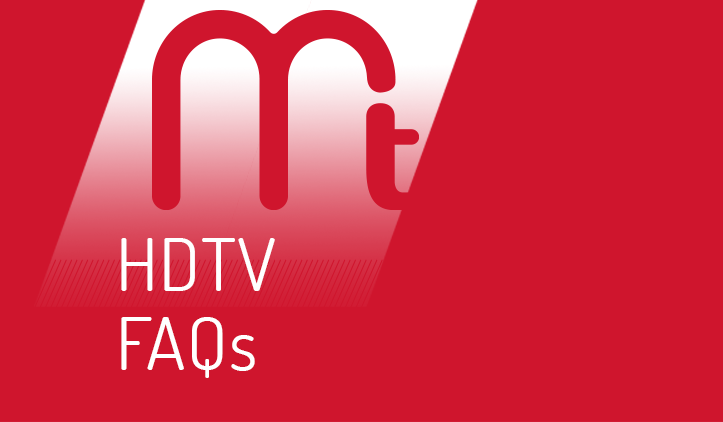 HDTV stands for High Definition Television and represents the highest levels of digital video and audio broadcasting quality. It is the most robust and detailed television image available.
HDTV gives you up to 5 times the picture resolution of regular TV and the wide-screen experience of being in a movie theatre.
To receive HD signal you must have an HDTV. If your current TV is an HDTV you will be able to receive HD signal. Non-HDTVs (analog, digital, etc) cannot provide the HD signal.
We feel that a purchase of an HDTV set is choice based on each individual's viewing habits. If you are struggling to decide we suggest visiting a local electronics store to learn more about the pros and cons with each set.
Receiving HD Services from Mitchell Telecom only takes an HDTV, an HD receiver, and cables to connect the equipment. Mitchell Telecom's HD receiver comes with a set of component cables. HDMI cables, which may improve the quality of the service are not included and would need to be purchased by the customer.
Many people liken the switch from standard definition to high definition to the move from black and white TV to color TV. In this case, picture quality is the biggest differences you will see between HD and digital services. HD is a digital service that has been enhanced to provide higher resolution as well as a wider viewing format. Another improvement is the audio quality that can be accessed with HD service. TVs that come equipped with Dolby Digital can access HD Audio as well, which dramatically improves the programs audio quality.
Mitchell Telecom will continually be adding channels to our HD lineup as more and more content becomes available. With our initial launch you will receive KELO-CBS, KSFY-ABC, KDLT-NBC, KTTW-FOX, PBS, ESPN, ESPN2, HDNet, and HDNet Movies all in an HD format. Premium subscribers that receive the Starz!/Encore premium suite will also receive Starz! HD.
Stop by Mitchell Telecom's office at 1691 N Main St in Mitchell. You can also call the office at 990-1000, or email a sales person at sales@mitchelltelecom.com to reserve your installation appointment.
Although you can watch your DVDs on an HDTV and have HD services from Mitchell Telecom you will not be watching in true High Definition. Unless you have a HD DVD or Blu Ray disc, both of which can't be played standard DVD players, the DVD format was developed prior to HDTV and does not utilize HDTV technology. DVDs can use the 16:9 aspect ratio of an HDTV.
As you see quality differences in the standard definition channels that you view today, you can expect to see differences in HD channels. Each channel provider uses a different means to provide that content to Mitchell Telecom, which ultimately affects its appearance. Know that high definition services will dramatically improve your viewing experience over what you will see on their standard definition counterparts.
The HD signal that you are viewing is a much more robust feed that takes a longer to be routed to your home.